Nature rediscovered.Pissaro in Eragny.Musée du Luxembourg.Paris
The Little Art Seeker has previewed for you the very poetic exhibition dedicated to the great Danish painter Camille Pissarro.The man himself is very interesting.He was an anarchist and atheist who was very much involved into the Impressionist movement considered by its other members as Renoir or Monet as a father figure.
But the aim of this incredible exhibition is above all to make you discover a part of the artist's life very much unknown from the "grand public";the time spent by Pissarro in a little village of Eragny-sur -Epte ,in Normandy.The exhibition successed to gather a great part of the artists'production during the last part of his life.
In Normandy,Pissarro created a kind of phalanstery ,where he worked with his own children who were all painters and many artists ,art dealers,art critics who came to visit him and exchanged their views about his art.
We loved ,the numerous pictures ,representing him with his wife Julie and his numerous children!
When he settles in Eragny,Pissaro finds a beautiful house that he qualifies as"superb and inexpensive"with a garden and a meadow.This is for his whole family the end of a nomadic existence.The painter will use the house all at once as a studio and a place where he will be able to receive his guests for endless discussions about art and the role of the artist in the society.
For the next and last 19 years of his life Pissarro will paint and draw his garden endlessly ,crossing the seasons and realizing series as Monet had already did before him with his cathedrals or heystacks.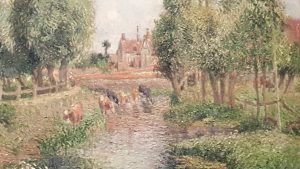 The watery place at Eragny.1884
Though,he preferred to stay in Paris ,during winter,he watched without any boredom ,the three other seasons when the nature began to bloom and to reveal its beauties.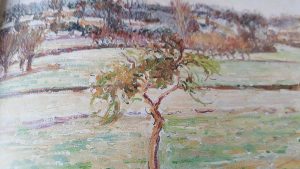 The apple tree.Effect of snow .Eragny.1884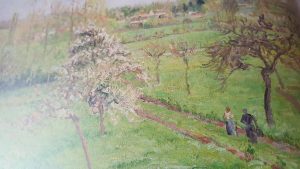 Spring afternoon,overcast sky,Eragny.1898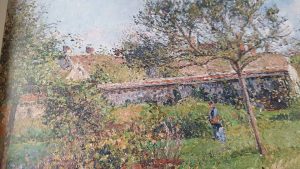 Corner of the meadow at Eragny.1902
Pissarro was a totally devoted father and encouraged his children in their quest to become fulfilled artists.During many years he developed a very straight communication with his eldest son Lucien,sharing with him all his views about art and leading his five boys to dedicate their lives to painting and engraving.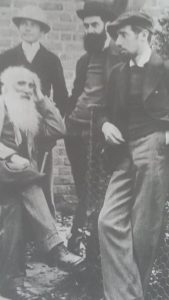 From left: Ludovic-Rodolphe,Lucien and Felix.Archives of the Wildenstein institute.Paris
"I'm only happy when I am in Eragny,surrounded by all of you and quietly contemplating the work of art .By god,how inspiring!"
Letter to Lucien,January ,23,1886.Paris
Under Lucien's impulse ,Pissarro will get involved for a time into the Neo-Impressionist adventure.A close friend to Seurat he will argue with Manet who didn't understand how Seurat's work was useful to Art and how creative it was.He will pursue his,quest for colour division into, thousands of dots from 1886 to 1889.But this endless quest which will lead him to paint with a half brush will have terrible consequences over his own production which will pass from about 60 paintings a year to only 10.His wife,Julie, from peasant's origins who doesn't share her husband's commitments for this innovative art and who is familiar with land and farming will have the heavy responsibilty to feed a large family during times when money is scarce.Fortunately she will plant a sizeable kitchen garden and fruit trees and will recruit numerous farm hands that will transform the place into a real working farm.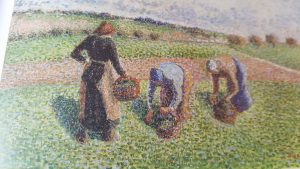 women picking herbs;Eragny.1886.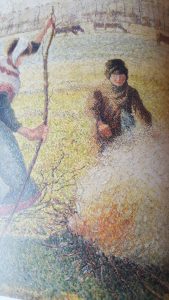 Peasant Women picking herbs.Eragny.1886
With the watercoulour,Pissarro will get back to more authenticity.A series of his watercolour productions,shown for the first part to the audience ,gives us a glimpse of the great artist's wish to capture the everyday life of the peasants in the fields.We chose "femmes faisant de l'herbe"for its vivid hues .In the right part of the composition you will notice little touches of colour , a proof of the painter's exchanges with his eldest son Lucien,himself very much involved in book illustrations.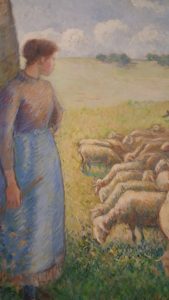 bergère et moutons.1887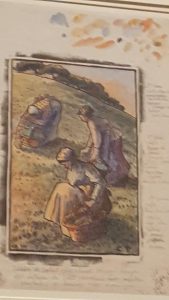 Femmes faisant de l'herbe.1894.Woodcut coloured in watercolour by hand.
The last part of the artist's creation,will be focused upon the life in Eragny and the description of this charming village and the church's steeple.The church being located 100 metres from the artist's property.All the latest productions testify from the painter's happiness in a rural setting and his desire to be close to the a simple life.
The exhibition is very poetic and the little art seeker had the chance to meet ,the artit's grandson ,Joachim Pissarro who introduced us with a great tenderness to his great grandfather's work.If you visit Paris and desire a little bit of tenderness in this tough world ,visit this beautiful exhibition ,running to July 2017 in the musée du Luxembourg!!!