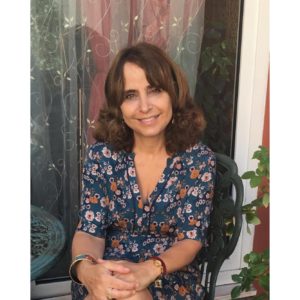 Caroline Viellard used to be a teacher and worked for years with children before creating her own company in 2009. She became a guide lecturer and loves to go on explaining art and history to little art seekers !!!
Big and little !
She will be happy to make you discover her country !
Some words about me
I've been a teacher at French "éducation nationale"and loved to work with kids.For years with enthusiasm I kept  bringing  them to the museums and transmitted them my passion for art and history.
In 2009,I created my own company"the little art seeker"with the desire to transmit my passion for art through funny scavenger hunts both funny and interactive. I love to make discover my city Paris and the beautiful sites of the city through tailor-made tours imagined for kids
Education
University degree : English and American litterature at the Sorbonne.
Professional primary-school teaching diploma
State diploma : national interpreter guide and national lecturer.
Spoken languages


Certificates
University degree in english
Professional primary-school teaching diploma
State diploma : national interpreter guide and national lecturer.

Mrs Alyssa B
Formidable!  The treasure hunt for the kids was fantastic.  It was our first visit to Paris.  Rashna Mistry-Malhotra  loved the tour
Alyssa

Mrs Johnson
everything here in Paris is good but I wanted to let you know what a wonderful time we had today with Carolyn in Versailles. She is so informative and we learned so many things from her today. I was so intrigued with the history she was giving us, I took very few pictures, which our oldest daughter will be disappointed about but….we were both so caught up in what she was telling us, the thought of pulling out ethe camera to take a picture didn't even cross my mind .
I didn't want to miss a minute of what she was telling us.
Thank you again to Carolyn

Dr. Toby Tetenbaum, Professor, Fordham University, New York
My husband and I traveled to Paris after not having been there in years.  We connected with Caroline Viellard on the recommendation of our niece who, on her honeymoon, used Caroline as her guide and raved about her.  My niece was right.  Caroline is knowledgeable, responsible, and diligent.  She knows Paris inside-out and has wonderful stories about buildings, people, art, music, history, restaurants – everything you would want to know.  I highly recommend her as the best guide in Paris!