Christian Dior.Arts Décoratifs.July 5 2017-January 7 2018
The musée des Arts décoratifs is celebrating the 70th anniversary of the house of Dior through a lavish exhibition with 300 haute couture gowns designed between 1947 and today.The Little Art Seeker saw it for you!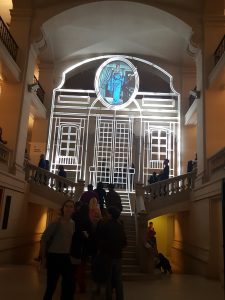 When he was 14,Christian Dior went to see a palm reader who predicted his future"Yiou will be penniless, but women will be good to you and it is thanks to them that you will succeed.The prediction was true and Dior became the world's best known couturier.
Dior was born in a wealthy Normandy family on January 1905 in Granville and studied political science before opening his own art gallery in 1928.His family was severly touched by the financial crisis of 1929 and he was forced to close his gallery .He learned fashion design and in 1946,he founded his own couture house ,helped financially by Marcel Boussac, a powerful textile manufacturer.The exhibition shows us private documents showing us his family's success before 1929 as great industrials.The Little Art Seeker loved the pictures of Dior as a child and with his siblings.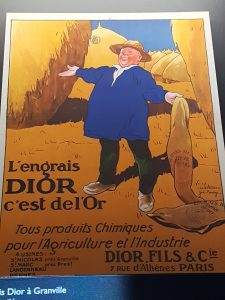 His first show took place on 12 February 1947 ,the success arrived immediately ,women all over the planet adopted his revolutionary "New look style".Dior died unfortunately on October 1957,f'rom a massive heart attack but he left prestigious successors who have succeeded him after his death at the helm of the house of Dior:Yves Saint Laurent ,Marc Bohan,Gianfranco Ferré,John Galliano,Ralf Simons and Maria Grazia Chiuri.
We admired his first sketches for his collections but also the beautiful photographs of the actresses and models wearing his last creations.
Christian Dior has a young man, opened an art gallery in 1928,at 34 Rue de la Boétie in Paris ,and ran also a gallery with Pierre Colle rue Cambacérès.With Colle he promoted young artists from his generation but akso establoshed artists such as Derain , Picasso ,Braque,Matisse,Miro.Among the young ones many would become renowned artists ,Dali,Giacometti,Leonor Fini,Alexander Calder …
The exhibition displays great pictures of his art galleries and shows us how avant -gardist he was in his artistic choices.
Objet désagréable à jeter Alberto Giacometti 1931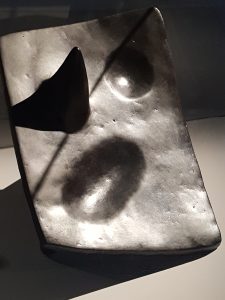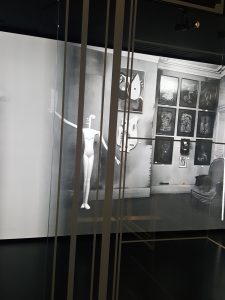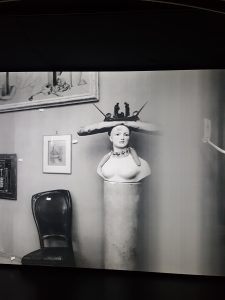 During all his lifetime,Dior developed friendships with artists whose influence could be seen in his haute Couture collections.When the house Dior opened his doors in 1947,he was surrounded by his friends artists and his, dresses paid tribute to the artists of his youth such as Picasso ,Braque and René Gruau.His successors did the same .The little Art Seeker adored John Galliano's creations inspired by Leon Bakst and the Ballets Russes .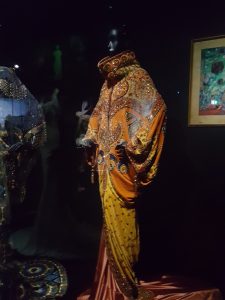 A part of the exhibition is dubbed "Colorama" and illustrates the desire for the great couturier to dress a woman Christian Dior from head to toe .Dior insisted that everything from hats to shoes, jewelry to bags and perfume to make-up had to play its part to create a meticulous elegance.The Little Art Seeker loved the showcases with a panorama of objects all of the same color ,including pink, the color of happiness and feminity.
Dior favorite color was the red ,the color that "dresses women's smiles"!!!It's also very funny to look at the miniatures of original designs replicated to the slightest details by the Haute Couture ateliers.
The decor of the couture house at 30 Avenue Montaigne reminds us of Christian Dior's attachment to the 18th century,with its white and Trianon grey panelling,neo-Louis XVI medallion chairs .Numerous references to the 18th century can also be found in the dresses cretaed by Dior and his successors ,drawing either on the lavish style of the court dresses worn at Versailles or the simple dresses worn by Marie-Antoinette at the petit Trianon.The refinement of late 18th century women and portraits of Madame Vigée le Brun inspired Dior's creations in his conception of feminity.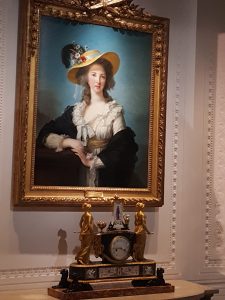 Christian Dior and his successors can be counted among the first couturiers present on international markets ;But the influence worked in both directions:the art and culture of the world's continents provided them with numerous sources of inspiration.John Galliano offered a new vision with breathplates and effigies of the gods from Ancient Egypt.Dior paid hommage to calligraphy and Chinese dress.The Americas also inspired Christian Dior and Galliano inspired by Peru and Mexico.The Spanish Arts and culture such as Sevillana dancing and bullfighting were also sources of inspiration for Christian Dior and Yves Saint Laurent.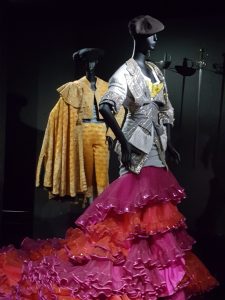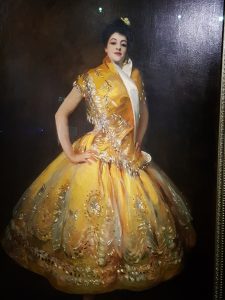 "After women flowers are the most divine of creations".For Christian Dior,all flowers reminded him his childhood garden.When he became a couturier,flowers inspired his flower woman whose full skirt in a form of a corolla contrasted with a narrow calyx-like bodice.The Dior style was steeped in flowers ;his dresses scattered with individual bouquets ,decorated with embroidered meadow flowers .Dior loved to draw his collections in the middle of his garden surrounded by flowers.
Christian Dior felt that a gown without perfume is incomplete.The exhibition displays gorgeous bottles of his first collection.We admired the beautiful bottles and their nice designs.
The second part of the exhibition is dedicated to the numerous creations of the maison mère from the 30 avenue Montaigne.From the origins to the creations of his successors.A real feast for the eyes.So if you have a couple of hours to share with a friend who loves fashion in Paris run to see this huge exhibition dedicated to this great Monsieur de la Mode:Christian Dior.